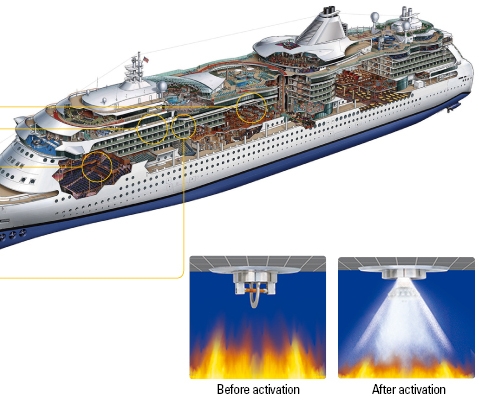 Accomodation
Regulation
2004 SOLAS II-2 10.6
– 6.1 Sprinkler systems in passenger ships.
– 6.1.1 Passenger ships carrying more than 36 passengers shall be equipped with an automatic sprinkler, fire detection and fire alarm system of an approved type complying with the requirements of the Fire Safety Systems Code.
RES. A. 800 (19) (Nov. 1995) RES. MSC. 265 (May 2008)
– ANNEX: Amendments to revised guidelines for approval of sprinkler systems equivalent to that referred to in SOLAS REQULATION II-2/12 in the ANNEX to REQULATION A.800(19).
– APPENDIX A: Component manufacturing standards for vater mist nozzles.
– APPENDIX B: Fire test procedures for equivalent sprinkler systems in accommodation, public space and service areas on passenger ships.