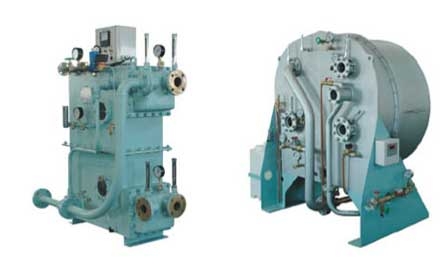 Fresh Water Generator
Long life span, high efficiency and space spacing
To achieve fresh water for drinking and washing, vacuum distillation system is normally use in the isolated place such as on ships or on islands.
The DHP vacuum evaporating distiller utilizes heat from diesel engine coolant and LP steam by special steam jet heater.
The DHP vacuum evaporating distiller is base on the DHP's titanium plate heat exchager, one for evaporating of the heated brine and the other for condensing of the water vapor.
The vacuum chamber is kept by the seawater driven from condenser combination ejector.
Heated seawater is used as feed water (brine) for the evaporating and evaporating temperature is controlled by vacuum pressure.
Evaporating pure water vapor passes through deflector, demister and moving water droplets and then enters the condenser.
The pure water vapor condensed by cold seawater.
The distillated pure water pumped out by fresh water pump and checked salinity.
If the salinity exceeds the specified level, solenoid valve opens in the discharge line of the fresh water pump, this is automatic operation.
The salinity exceeds distilling water is returned to evaporating chamber.
5TPD Type Single-stage Fresh Water Generator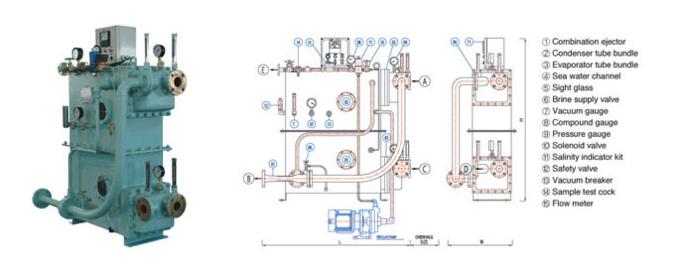 30TPD Type Single-stage Fresh Water Generator