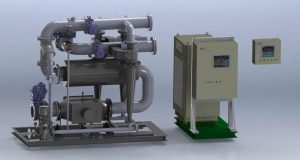 BSKY BWMS (Skid Model)
WUXI BRIGHTSKY has developed a modular ballast water management system (BSKY™  BWMS) that operates in line during the uptake of ballast water and again at discharge (de ballasting ). The major disinfection principle is through UV radiation without any chemical addition. The BSKY™ BWMS is the most suitable and appropriate Ballast Water Management System for ships with ballast flow rates from 100m3/ hr up to 6,000m3/ hr and even more and will perform to maximum effectiveness. This reliable system is highly flexible, due to its modular and compact design. BSKY™ BWMS is possible to change the system appearance in accordance with installation space and requirement of user. So, BSKY™ BWMS design is well suited for all size and types of retrofit as well as in new build applications. The BSKY™ BWMS is composed of pre treatment and post treatment modules to disinfect aquatic species in the ballast water . The treatment system comprises Hydrocyclone filtration in combination with ultrasonic (US) oscillation for filter self cleaning , and ultraviolet radiation also in combination with ultrasonic for self cleaning of UV lamps . Due to the highly efficient combination of US oscillation and UV radiation the BSKY™ BWMS technology can abstain from any reparations or chemical additives, which may pose a hazard to the population and/or to the environment.
Company Profile

Company: Wuxi Brightsky Electronics Co., Ltd.
Established: Since 1995
Employee: 350
Location: Wuxi City, Jiangsu Province, China
Business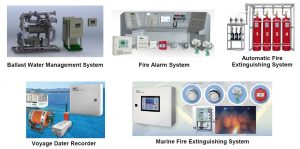 Benefit of BSKY™ Ballast Water Management System
Hydrocyclone Unit No Mesh & No Clogging
No mesh
No maintenance part
Simple expansion
Noiseless
No moving parts
No service time limit
Distributed installation
High-end duplex stainless steel
Excellent Sediment Management
Preventing sediment built-up in the ballast tanks
The sediment cause increasing of fuel consumption and transports less cargo
Economic profit on fuel consumption is up to 3% through separation of sediment from ballast water
Separation Efficacy of Hydrocyclone Unit
≥ 50㎛Microorganisms and solid particles: 98%
20 ~ 50㎛Microorganisms and solid particles: 95%
EPT(Enhanced Physical Treatment) Technology

Overcome the weak point of UV Technology by Ultra Sonic Effect
Enhance Disinfection Efficacy in High Turbidity Influent Water
Prevent Regrowth or Repair Problem at Low UV Dose by Physical Damage
Solution to treat against the High Resistant Micro Organisms, such as Artemia & Brine Shrimp Egg by Enhanced Physical Treatment Technology
The most environmental friendly system
No active substances & No by-products
No chemical additives, No hazard to human & marine environment
Full automatic & easy operation
Start/Stop at the push of a button in control panel or touch screen(local or remote control panel)
The control and monitoring system controls the system and supply all components with power and records the running status of the BSKY™ BWMS
«Auto control» mode for automatic BSKY™ BWMS running. Just pushing the «BWMS Start».
Low Operating & Maintenance Expenses

Compact System & Easy Installation
Simple & Compact System
Compact and modular design flexibility enable to save space for installation
Certificates

Description of Major Components of BSKY™ BWMS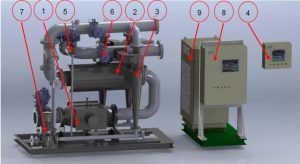 UV Module
US Unit
Hydrocyclone Unit
Remote Control Panel
Solenoid Valve
Control Valve
Drain Pump
Local Control Panel
Control Rack
Hydrocyclone Unit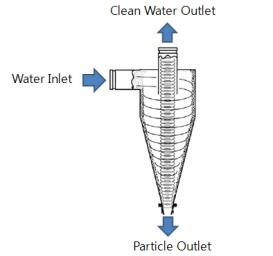 Hydrocyclone is a device used to separate particles in a liquid suspension based on the density and size of the particles. It is easy to operate and maintain, and have no moving parts or screens. Hydrocyclone uses a tangential injection flow process, enhancing the centrifugal forces and moving particles outwards.
First stage prefilter
Possible to remove solid particle(≥10 ㎛) & plankton(≥50 ㎛)
To adjust capacity by parallel arrangement

US(Ultrasound) Unit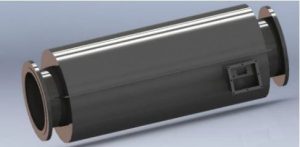 The Ultrasound effect produces high temperature of 1900~5200k and high pressure of more than 500atm. This extreme Ultrasound effect breaks microorganism's cell wall to enhance the disinfection effect of UV unit.
Ultrasound(US) processes are purely physical processes
The use of cavitation does not increase corrosion in ship compartments
Brushing or other means of cleaning is dispensable
Fast, highly efficient cleaning
Maintenance free, no personnel training needed
Extremely low energy consumption
UV(Ultra Violet) Unit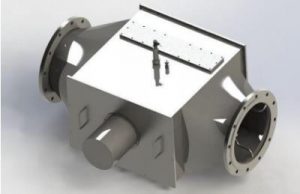 The 'BSKY™ BWMS UV module' is designed to provide an average dose over 167mJ/cm2. This average dose to be effective for disinfection is calculated using the expected end of lamp life intensity of the UV lamp. BWMS through the use of UV is repeatedly proven to be effective against zooplankton, phytoplankton, bacteria and viruses. In addition, "UV irradiation is an attractive, rapid means of disinfection, as it leaves no harmful residues".
Rated Capacity: 300 ~ 1,500 [m3/hr]
Application to various capacities by serial & parallel arrangement
Completely sterilize all bacteria and organisms remaining after 1&2 stage filtration
No remaining toxicity
Remarkable disinfection effect
Easy maintenance & operation
Control Rack (UV Power Supply & US Generator) and Control & Monitoring System

BSKY™ BWMS operation logic diagram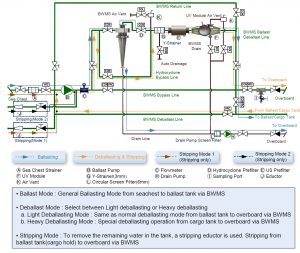 Specification of BSKY™ Ballast Water Management System


USCG Type Approval Status

Note: Time Line for USCG Type Approval of BSKY™ BWMS is expected schedule.
Shipboard Test
Ship Name: Aquamarine Progress
Ship Owner : MOL
Vessel Type : VLGC
Ballast Pumps : 750㎥/h x 2 sets
Model  : BSKY1500 X 1 set